Most of the times we put our trust in services and businesses that have a great reputation online. Therefore, it is necessary that users get enough details and testimonials from real people to be able to trust such services. Here are a few steps we cannot ignore –
Users read online reviews while considering a service
Users trust these reviews since they come from real people
Users make informed decisions based on these reviews.
Positive reviews increase the possibility of people purchasing products and services!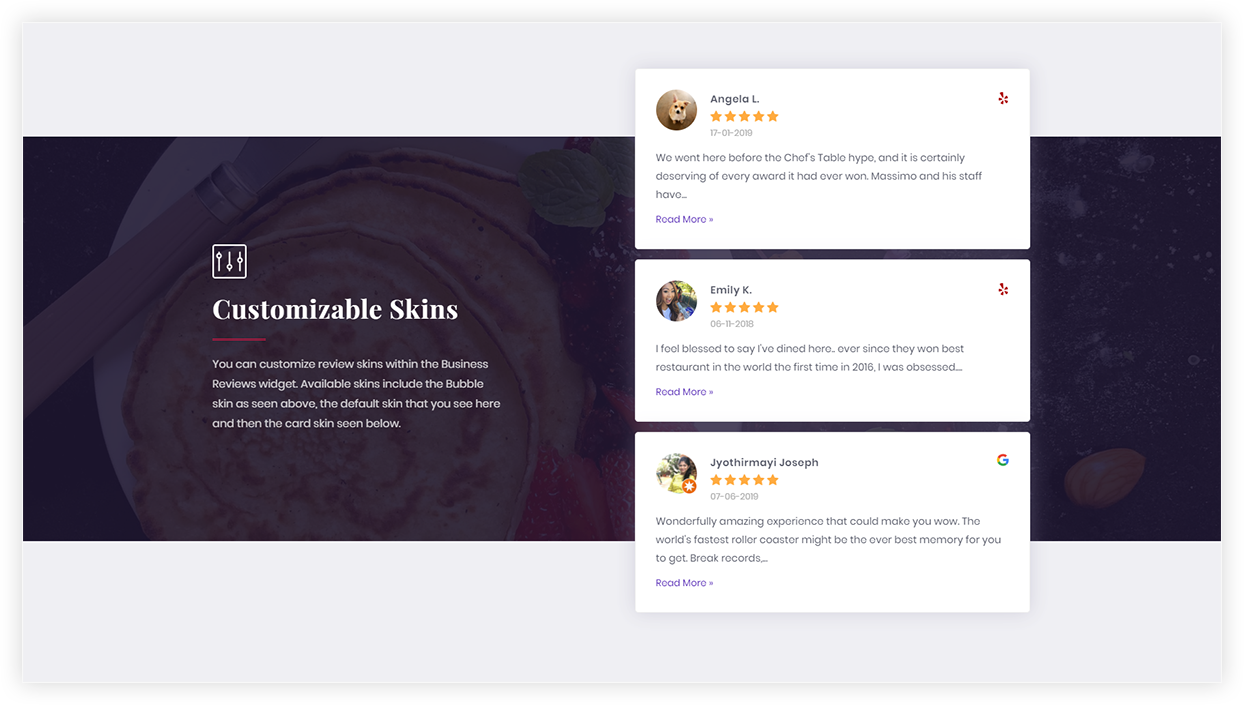 On the other hand, a business that doesn't show any customer reviews have very fewer chances to earn customer's assurance. People are always on the lookout to know whether a business really works and whether users are opting for it. Displaying reviews proves that users are taking up services and post reviews about it.
Most of us can relate to our own experience while buying a product or hiring a service online and so it is very necessary that we frame a similar experience for our website visitors. Making real customer reviews accessible on your website adds credibility and shows that one can trust the business. We never buy products without reading reviews, we love to star ratings on products –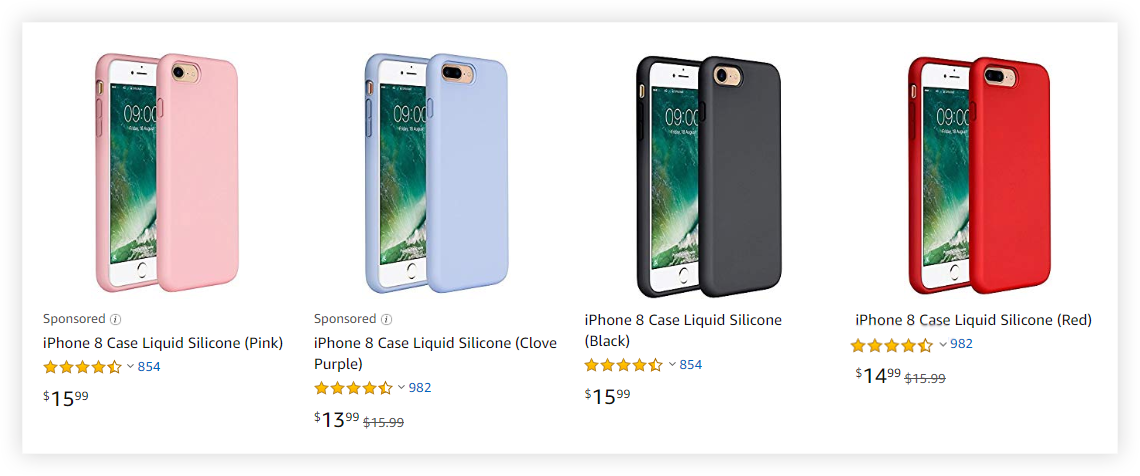 To help you fetch Business Reviews on your Website, we are bringing in the Business Reviews Widget for the Elementor page builder. With this, you can display reviews from Google Places and Yelp on your website.
Along with review text and date, the widget allows displaying reviewer information like a profile picture, name, etc. Most importantly it shows star ratings. Star ratings would encourage and help people to make a comfortable decision while choosing your product or service.
When you embed Google and Yelp reviews on the website, not only visitors but Google Search Engines like them too! 🙂
The Business Reviews Widget for Elementor has stunning styling options to attract visitors. At the same time, it can add schema markup to the page. This sends a strong signal to Google that the business is popular and worth considering. It's like a Cherry on the cake! Isn't it? 😉
Let's explore this widget further! Here are
3 steps to put Google Places and Yelp reviews on the website
Step 1 – Configure the Google Places API key and Yelp API Key
Step 2 – Get the Google Place ID and add it to the widget. For Yelp reviews – add Yelp Business ID.
Step 3 – Enable Schema support and select Schema Type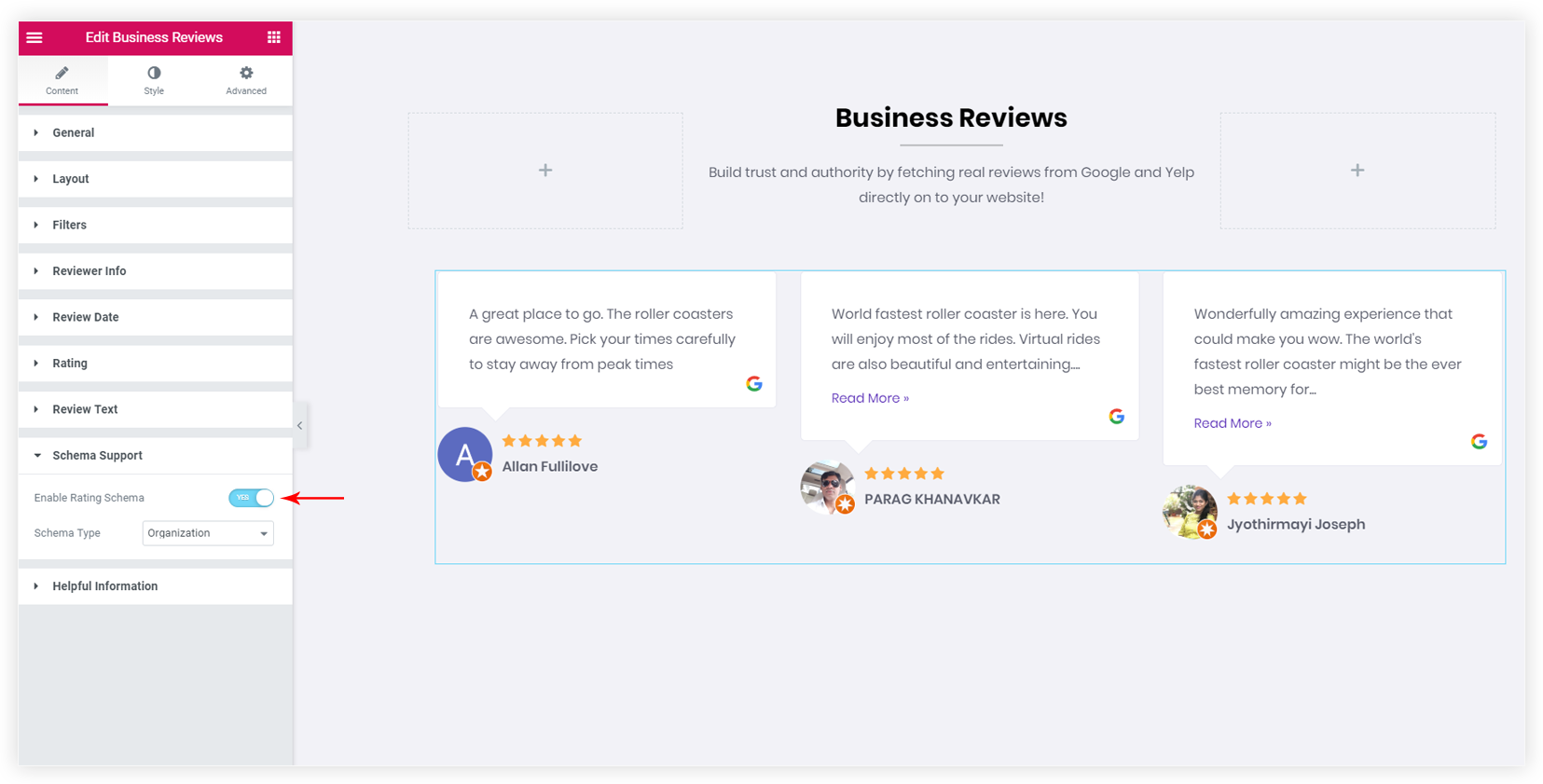 And you're done!?
If you want, you can style up to the reviews with skins, layout, colors, etc. Let's dig into what this widget can provide.
# Want to fetch newly added reviews continuously?
You can choose to reload reviews after a specific time span. To fetch the most recent reviews select Hour as a time span.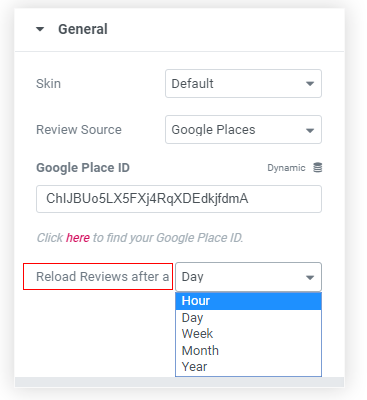 # Want to show reviews in a slider?
By default, the widget displays reviews in a grid layout with column number control. But you can turn it into a slider using the layout settings.

# Display Reviewer Information to make the review look more realistic.
You can display the reviewer's name and profile photo along with the review text. This will show people that the reviews are coming from genuine users.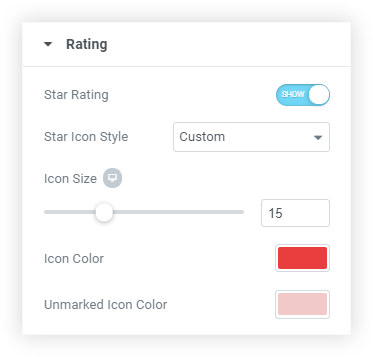 # Want star rating to shine in red color?
The widget provides total control on the star rating style. Set a nice color and size to make them more attractive.
# Don't want to show not-so-glowing reviews?
At the initial stage, you might get some undesired reviews. That is totally fine because negative reviews can contribute to a positive impression. But in case you don't want to show them choose Minimum Rating and skip them from displaying.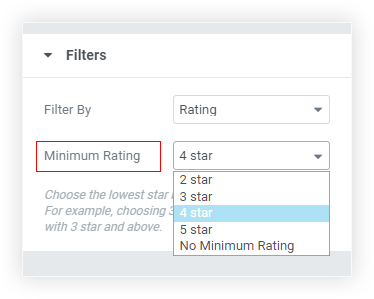 Increase Chances of Ranking Higher with Ratings added into the Schema Markup!
Adding a schema markup makes it easier for search engines to understand the context of a page. It also displays a rich snippet with available information onto the search engine results page.
Rich snippets are trendy and useful since they make your website look attractive than the rest and increase the click-through rate you obtain through search engines. Showing ratings and reviews in such a snippet will certainly add to it!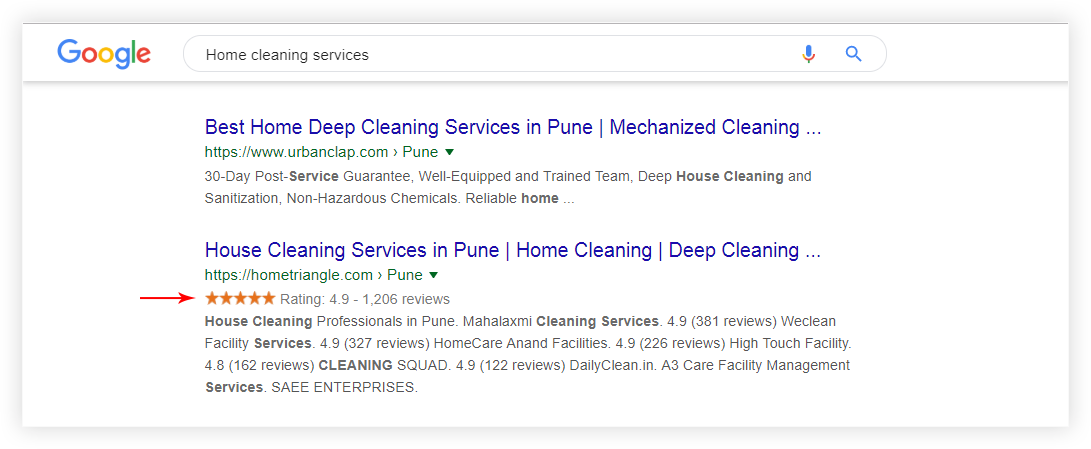 In the above example, we see two websites appearing for the same user query. But, the one below looks more appealing since it shows real-time ratings and has over 1000 users who have submitted their reviews.
Adding valid reviews property to a schema in the website markup helps Google understand the presence of a customer-friendly business. The best thing is you don't need to add code for it.
Just enable schema with a toggle and select type from – Place, organization or Service. After enabling this option test your website with a structured data testing tool to see how the schema is added to the webpage.
The Widget will fetch star ratings from Google/Yelp and add them as a field for aggregateRating in selected schema type.
Note: Adding ratings into snippets also depends on various other factors considered by Google. This feature only adds more chances for it to be displayed.
Reviews always attract users and let them spend more time on your website. This ultimately increases user engagement and helps to decrease the bounce rate.
Fetch User Reviews on Your Website Today!
We have seen how adding reviews to a website contributes to the growth of a business. The Business Review widget will be available in the Ultimate Addons for Elementor version 1.13.0 onwards. Existing UAE users can update the plugin to the latest version and see how this stunning widget works.
See how effectively you can design business reviews. You can dig into our knowledge base article to know more about the Business Review Widget. In case you don't find your answer in articles, simply write to us!
Do let us know your "Reviews" about this new widget in the comments below. 😉