While working on multiple websites have you ever wished to replicate the Elementor section from one website to another one?
The current solution you have with Elementor is to save page as a template, export it from one website, import it on another one, append this template in page and then remove unwanted sections from the page. If you wish to replicate more than one section with this process, you will require a lot of time and effort.
What if I tell you that you can skip this lengthy process and replicate ANY Elementor section from one website to another in just 4-clicks!
That will be awesome, right?
Well, now this is possible with Ultimate Addons for Elementor's smart feature… Cross-Site Copy Paste!
With this feature, you can copy Elementor content from a website with one domain and paste it to the website with another domain.
How Does It work?
Now you might be wondering how the Elementor section can be replicated in just four clicks, so let's dive in.
Click 1: Right-click on the section.
Click 2: UAE Copy it.
Click 3: On another website, right-click where to add the copied section.
Click 4: UAE Paste it.
You're Done!
What Can Be Copied?
All Elementor widgets…columns…sections with content and styling.
When you copy the Elementor section – text, content, its style attributes will be copied. The pasted section will look exactly as it is on the first website.
This cool feature will work not only with UAE widgets but also with any third-party Elementor widgets.
Frequently Asked Questions
1. How this will work with global theme styling?
If you have different theme styling on both websites, your copied content will automatically inherit style from global settings. You don't have to worry about setting it again.
2. Once I replicate the content, can I edit it?
Yes! Your content will be copied as it is so you can easily edit and customize it in the Elementor editor.
3. Will my images and videos will be copied?
Absolutely. All your content including images and videos will be copied. Images and videos will be added to the media library automatically.
4. What setup will I need on my websites?
You will need Elementor and Ultimate Addons for Elementor activated on websites. Make sure you have Cross-Site Copy Paste feature enabled.
Apart from this, you will need the required plugins activated. For example – if you are displaying contact form with plugin P on website A, you will need similar plugin P activated on site B. So when you copy and paste the form it will find its parent plugin and form will display smoothly.
5. Can I turn off Cross-Site Copy Paste feature?
Yes, you can. From UAE welcome screen you can deactivate this feature. So when you are not using this feature simply turn it off.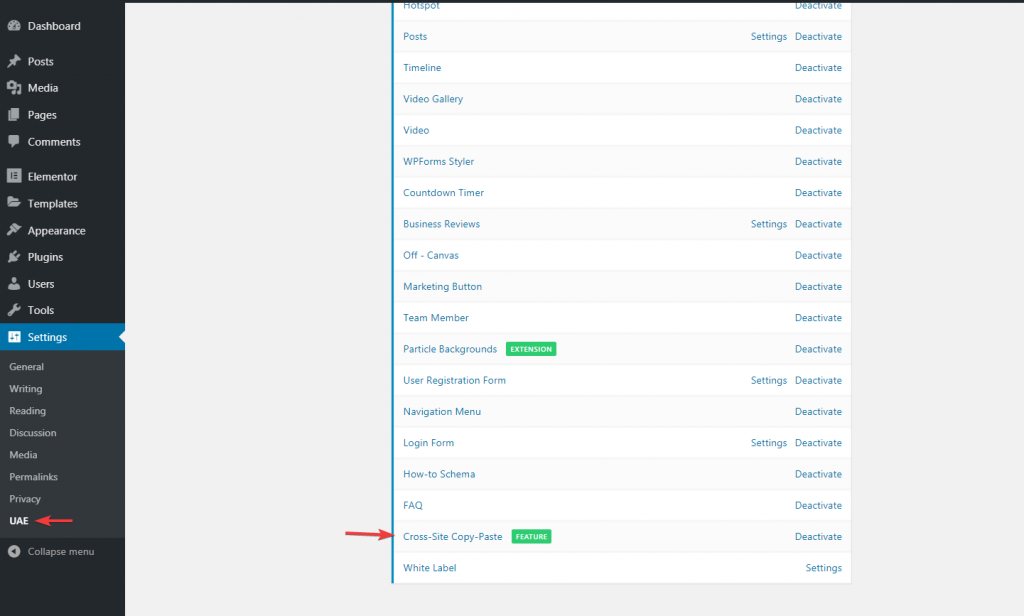 6. Will this affect my webpage load speed?
No! This feature just replicates your content over different websites. It does not affect page load speed.
See Cross-Site Copy Paste in Action!
Excited to try this awesome feature? Just update Ultimate Addons for Elementor to the latest version and start replicating your favorite Elementor design on multiple websites.
Refer to our detailed article on Cross-Site Copy Paste and take a look at the feature page.
In case of any query, get in touch with our smart support team.
Do let us know how you like this new feature in the comments below! 🙂