If you have ever tried designing a great-looking website from scratch by yourself (or you're still trying), you know how much time and effort it requires.
You can get creative and unique widgets with Elementor and Ultimate Addons but they come with their own defaults and basic styles. You can't often use these designs as they are.
Dealing with a large number of options and settings can be confusing. You need to try them all out, look for the right combination and work your way through them to find the perfect one. Even then, you could still end up not satisfied and in need of some coding or third-party support. 😪
As an experienced professional, these things may come easily, they may often still end up being time-consuming.
To help speed things up, we are introducing Presets with the latest version of Ultimate Addons. These will save a bunch of your design time and help you build a professional look for your website. 🤩
Let's dive in and understand more about presets.
What Are Presets?
Presets are ready-to-use templates for Ultimate Addons for Elementor (UAE) widgets, that you can use for hassle-free website building.
They are a set of different unique designs available for various UAE widgets. You can select the desired preset to automatically style your widgets. It will save you time in adjusting multiple settings in the widget.
And don't worry, if you need things to be slightly different from the preset applied – just apply the preset and modify the settings afterward.
Here are different presets available for the Advanced Heading widget. You can choose any presets just with a click.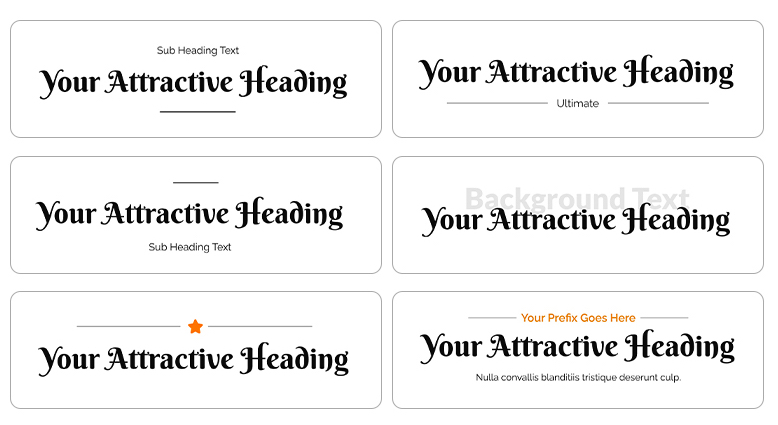 Another set of presets for the Price Box widget –
Here are few reasons to love presets –
Huge Time Saver: Stop spending your time designing every section from scratch
Professional Design in a Few Clicks: Choose expert-built presets to help design stunning web pages
Easy To Use: Apply different preset designs just with a click and tweak section easily
Current Market Trend: Keep up with current market trends and keep your website up to date
With presets, you will get professionally designed widgets that you can add anywhere on your website. If you need to change the design for any widget, just choose another preset and that's it.
Also, if you're creating websites for your clients, presets can be great time-savers.
At the moment, UAE provides more than 50 presets to choose from, and this number is constantly rising.
You will find presets with the following UAE widgets,
Advanced Heading
Dual Color Heading
Info Box
Price box
Price List
Multi-Buttons
Login Form
Team Member
FAQ
Business Hours
With the upcoming updates, UAE will be coming with new presets for more widgets.
How To Use Presets With UAE?
Presets are a huge time-saver that lets you apply ready designs quickly in just 3 steps.
You can find presets in any of the supported widgets. Here are easy steps:
Step 1 – Edit the widget and you will notice the "presets" tab.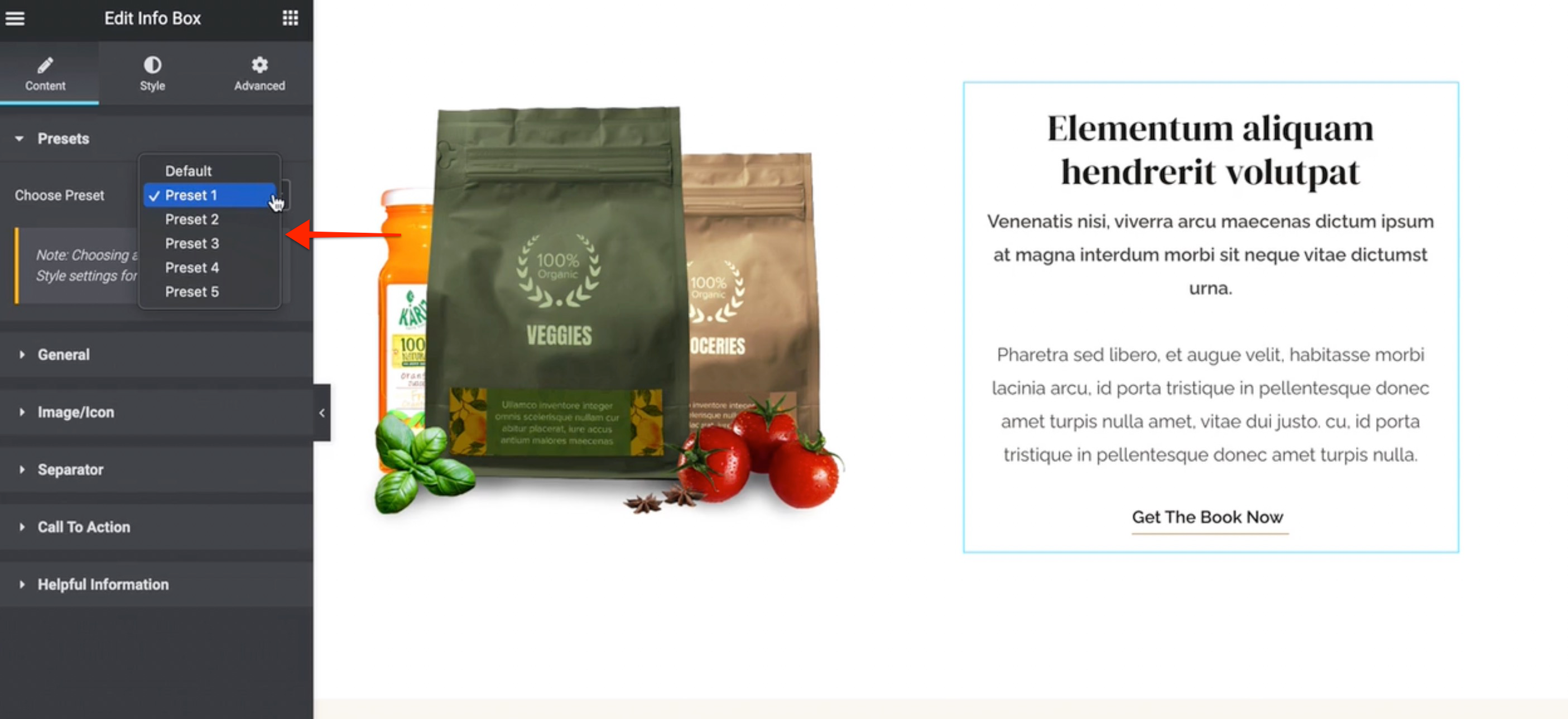 Step 2 – Try different presets from the list and choose your favorite one.
Step 3 – From here you are free to modify the widget content, and all settings if needed including the settings applied by Preset selected.
Done!
When you choose a new preset, all existing style settings for this widget will be reset, and the new preset settings will be applied.
Enhance Web Page Design Today!
Are you ready to start creating your websites faster than ever? Update your Ultimate Addons for Elementor to the latest version and enjoy beautifully designed presets for your favorite UAE widgets.
We all have heard the phrase "time is money". And you know it's true, especially when you could be doing something else instead of additional hours spent on finding a way to build your website.
Try presets and see how adding professionally designed elements to your website is now easier and quicker.
If you are not sure how to use this feature or need any assistance, do check our knowledge base or contact our support team.
Bonus Tip: Looking for full ready website templates? Check out our extensive library of professionally designed ready-made Starter Templates that can be imported in a few clicks.
Cheers!