Are you looking to build a WordPress website for yourself or a client? You can speed up the process by using a modern WordPress page builder.
But which one? Which of the many drag and drop WordPress page builders out there should you use? We'll be answering that question in this guide!
In the early days of the web, if you wanted to build a website, you either had to know how to write code, or you had to pay someone to do it for you. With advances in technology, software like DreamWeaver, and platforms like WordPress came along and made website building much easier.
These days, anyone from professional developers with years of experience, to the newbie with just a few hours of WordPress learning can build amazing websites using a WordPress page builder.
There are quite a few options to consider, and the choice isn't always straightforward because most of them work well. Each also provides some unique pros and cons.
In this guide, we'll walk you through the top 11 WordPress website builders for 2021, then we'll share the one that we like the most and why!
Should You Use a WordPress Website Builder?
WordPress page builders are plugins that allow users to easily create custom websites without having to write or edit any code.
Ordinarily, to create or edit the appearance of some element on a web page, for example, a slideshow, you need to add some code into the HTML, CSS and perhaps Javascript of a website.
When you use a WordPress page builder, all you have to do is drag and drop elements onto a page.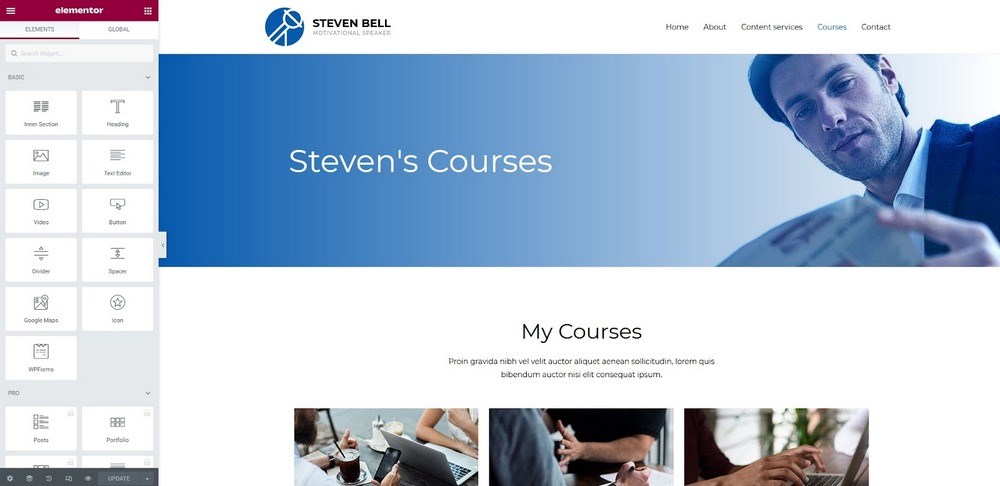 You can then edit these elements individually, adjusting features such as height and width for sections, rows and columns, backgrounds and borders.
This makes WordPress page builders an excellent option for less experienced web designers.
But, as with most things in life, there are potential consequences to consider. For example, page builders have acquired a reputation for slowing websites down when compared to hand-coded websites.
Additionally, using a page builder can add extra layers of complexity to a WordPress installation.
One reason for this is the fact that not all themes play nice with every page builder.
To solve this, some themes have been specifically designed to be more compatible with certain page builders.
The Astra theme, for example, is compatible with any page builder that follows official WordPress guidelines. But there are some page builders we particularly recommend, such as Beaver Builder, and Elementor.
Another concern that many people have is the fact that switching content from one page builder to another generally ranges from difficult to impossible with many page builders.
If you choose the right one, however, these concerns will be minimised, and the benefits will be far greater!
Before we jump into considering which WordPress page builders are best, we'll first discuss the features every WordPress page builder should have.
Essential WordPress Page Builder Features
While every page builder is different in some ways, there are a few features you should expect from them.
The best builders excel in these areas:
Visual Design Process
Not a coder? No worries! A page builder removes the need to write any custom code for your WordPress website.
Simply drag and drop elements into place, and you're good to go. The best page builders provide lots of templates and are easy for anyone to get started with.
At the same time, a good page builder should leave some room for customization, particularly using CSS – the language of website design.
Custom Templates to Speed Up Design
What if you're not visually-oriented? Most page builders will have you covered with some pre-designed blocks and page templates. Blocks are small sections of web pages that contain elements that are common to most websites. Templates are complete page designs you can use for your own needs.
For example, some websites feature a hero image on their homepage. It makes sense that page builders would then create pre-designed hero image blocks that you can use to instantly create one for your website.
These predesigned blocks can be reused, repurposed, or redesigned depending on your needs.
Because they are built to contain elements commonly used in building websites, they help to speed up the design process while allowing for a little more originality in layout than you would get with a full page template.
Integrated Marketing Features
The best page builders provide native marketing widgets or integrations with external marketing plugins. One marketing-related feature that is particularly important are forms.
Forms make it easier to collect and manage leads and for people to get in touch. While there are quite a few form plugins, you generally want to keep your plugin usage to a minimum.
This is to minimize the risk of plugin or theme incompatibilities, as well as to reduce the overall size of your website.
SEO Friendliness
When it comes to page builders and Search Engine Optimization (SEO), there are two main considerations:
The first is loading speed. Some page builders tend to be clunky and websites built with them tend to load slowly. This will be bad for SEO.
More importantly, Google requires that websites be built with a mobile-first approach. This means content should be designed to be easy for mobile users to read and interact with.
The best page builders will allow you to design responsively and to preview what your content looks like for different devices.
Compatibility with Major Themes
Compatibility is a major factor. The best WordPress page builders are theoretically compatible with every well-coded theme.
Unfortunately, not all themes are well coded and maintained following WordPress best practices. This is also true of some WordPress page builders and website builders.
To stay safe, use a theme like Astra that has been coded to the highest standards, and is trusted by WordPress experts all over the world.
Which WordPress Page Builder Is the Best Choice?
For a lot of WordPress beginners, customizing a website or blog may seem like an impossible mission. This is true even when you use premium themes that provide multiple layout options.
Without using a page builder, you would need to know a bit of HTML/CSS at the very least, to make even the most minor changes to the appearance of your site.
WordPress page builders generally solve these problems, and there are several to choose from.
Here are the top 11 ranked in reverse hierarchy: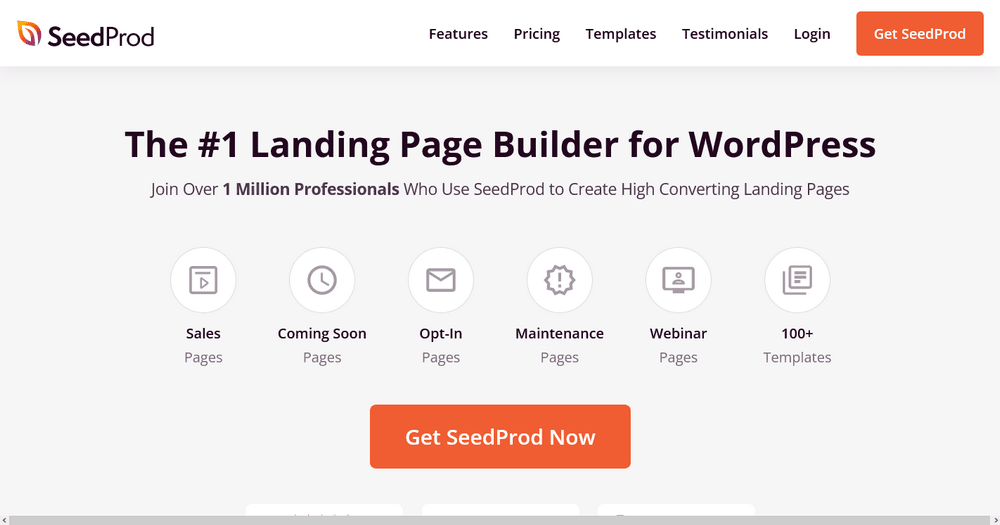 SeedProd is a highly rated drag and drop landing page builder for WordPress. While you can probably build most types of web pages using SeedProd, its block collection is primarily focused on landing page elements.
If you aren't very particular about creating a custom layout for your landing page, you can choose from over 100 SeedProd templates. If you have a bit more time or are feeling more adventurous, you can create a custom layout of your own using the easy-to-use drag and drop page builder.
One of the best things about SeedProd is that it's built to offer great web loading speed, which is crucial for SEO.
SeedProd has a free version, SeedProd Lite, with premium plans starting at $39
Features:
Lots of pre-designed templates
Free version
Highly responsive
Lightweight
Frontend builder
SeedProd Pricing:
In addition to its entry-level free plan, SeedProd offers four premium plans. For use on one site only, the Basic plan costs $39.50, for use on three sites, the Plus plan costs $99.50, for use on five sites, the Pro plan costs $199.50, and for use on unlimited sites, the Elite Bundle costs $239.60.
Why is SeedProd 11th Best Page Builder for WordPress?
SeedProd places 11th because while it is a great tool for building landing pages, it doesn't offer the same range of features for other types of pages. This makes it a great page builder for marketers but not necessarily for anyone else.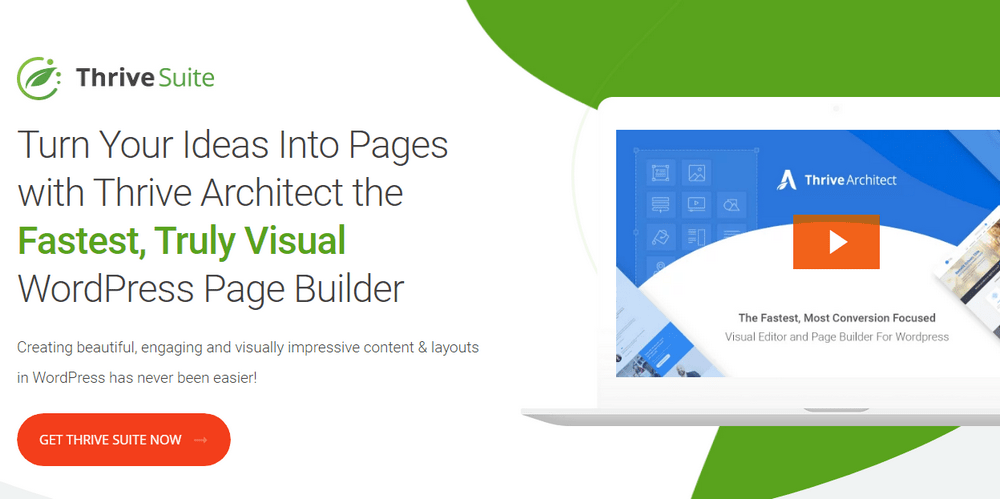 Thrive Architect is the visual page builder offered by Thrive Themes, intended mainly for conversion focused websites.
While you certainly could build these types of sites using the other page builders on this list, Thrive Architect excels in this niche. You could use Thrive Architect to build any type of website, but ultimately, Thrive falls short of Elementor and Beaver Builder when it comes to ease of use and flexibility.
Features:
Extensive marketing integrations
Moderate template library
Thrive Architect Pricing:
Thrive Architect is not available as a standalone plugin. Instead, you will need to purchase the Thrive Suite at an annual cost of $228 for use on up to 25 websites. At this price point, it is comparatively steep but makes up for this with a truly rich feature-set.
Why is Thrive the 10th Best Page Builder for WordPress?
Like SeedProd, Thrive Architect is a little too narrow in focus to qualify as one of the very best page builders. For anyone focused on marketing, however, Thrive probably has the most comprehensive suite of marketing integrations of the page builders in this list.
SiteOrigin is one of the oldest page builders around. It has a feature-rich free version and an inexpensive premium version. It's relative affordability may be one of the reasons why it has racked up an impressive one million plus active installs over it's time.
SiteOrigin is a backend builder so isn't the friendliest tool for complete beginners. But, what it lacks in user-friendliness, it more than makes up for in performance.
SiteOrigin is the perfect tool for more technical users willing to augment the drag and drop capability with some custom CSS here and there.
One of the best things about SiteOrigin is that if you decide that you want to use a different page builder, it will leave your content well-preserved, just without the formatting.
Features:
SiteOrigin is free to use with an affordable premium add-on
Flexible for developers
Custom post types available in the premium version
SIteOrigin Pricing:
The SiteOrigin page builder is free but for extra features, there is a premium add-on package billed yearly at $29 for use on a single website, $49 for use on up to five websites, and $99 for unlimited use.
Why is SiteOrigin the 9th Best Page Builder for WordPress?
SiteOrigin is a great tool, but it isn't the most beginner friendly page builder. It's not one we'd place at the very top of the list. Still, its feature-richness and affordability make it a great alternative to the ones at the top!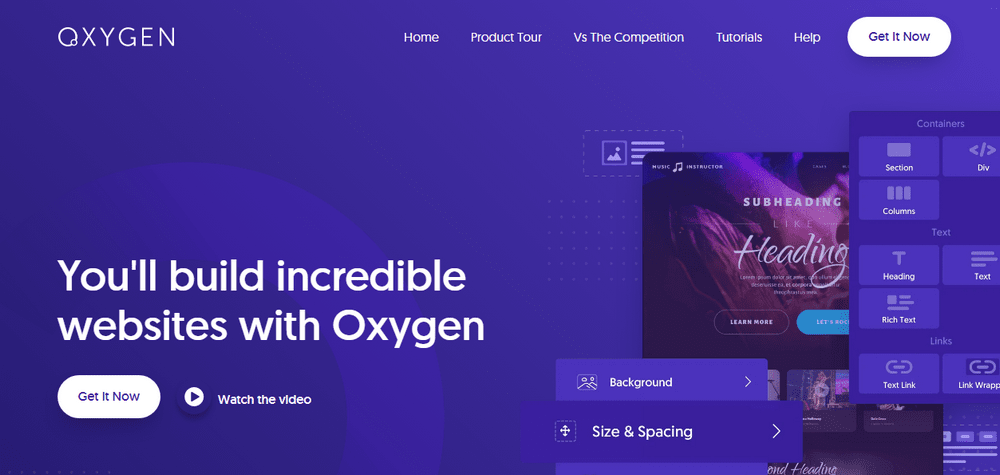 Oxygen has a smaller user base due to its status as a new kid on the block. It offers a frontend builder but has a reputation for not being quite as user-friendly as some others in this list.
Its feature collection includes global colors, drag-and-drop editing, visual control of your WooCommerce store (if you have one) and so much more.
One of the best things about Oxygen is that it integrates well with Gutenberg in its advanced plans, so you won't lose your content if you decide to switch.
When all the benefits are considered carefully, Oxygen offers great value for money. All its plans are currently lifetime unlimited offers which is incredible value.
Features:
Gutenberg block builder in the more advanced plans
Clean code that provides superior performance
Oxygen Builder Pricing:
Oxygen builder is available in four plans costing $129, $169, $199, and $229 respectively. These are the Basic, WooCommerce, Agency and Ultimate plans. All offers are currently for unlimited lifetime use.
Why is Oxygen the 8th Best Page Builder for WordPress?
Oxygen is a powerful page builder with excellent pricing. We're placing it at eighth, because it's not very beginner-friendly. If you have a bit of experience with using page builders and writing basic code, Oxygen may be the best long-term choice.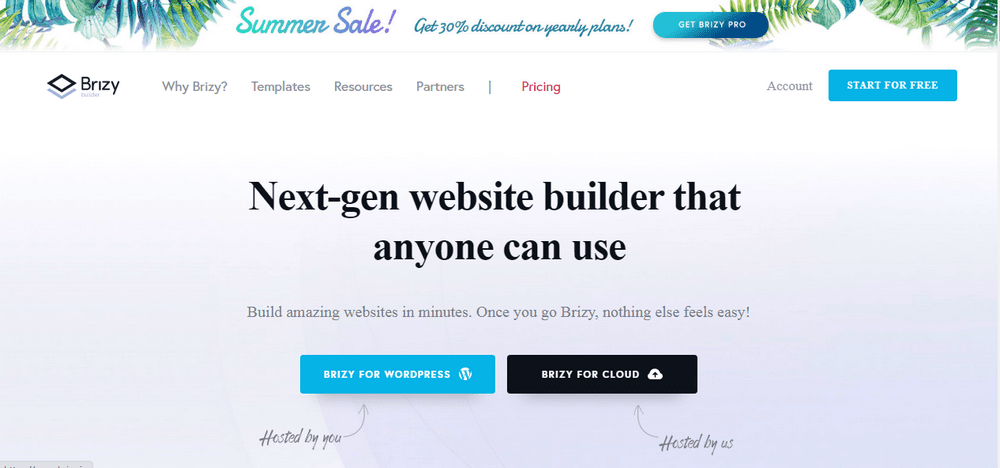 Brizy is a relatively new frontend page builder that offers a lifetime plan.
Brizy is designed to be the total solution and offers arguably the broadest range of features. They include 26 builder elements as well as 19 marketing integrations on pro plans.
When it comes to the editing experience, the interface is so simple that even those with little design experience will find themselves navigating with ease.
Brizy has a fully functional free trial and a relatively low entry fee for both its standard and premium plans making it an even better choice for newer developers and those with a smaller budget.
Features:
Free plan
Extensive template library
Extensive marketing integrations
Brizy Pricing:
Currently, Brizy offers three premium plans in addition to its free plan. At the moment, their personal plan costs $49 per year with the Studio plan costing $99 per year. There is also a lifetime offer which comes at a one-time fee of $299 and includes complimentary access to Brizy Cloud Studio.
Why is Brizy the 7th Best Page Builder for WordPress?
Brizy is a relative newcomer so while it does offer some great features, this is still one to keep an eye on and doesn't quite make it into the top half of the list.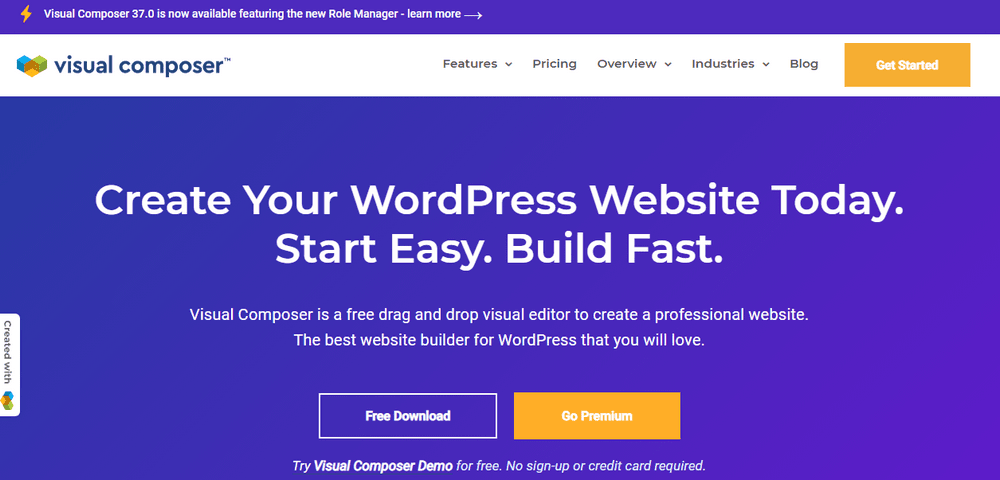 Visual composer is a highly rated website builder. If you're new to WordPress page builders, you might find its simple interface particularly suitable.
To quickly clear up a popular misconception, Visual Composer is not the same as WPBakery. WPBakery's Page Builder was formerly called Visual Composer but has since been rebranded.
The current Visual Composer has nothing to do with WPBakery.
The page builder has a drag-and-drop interface with right-click controls which, in combination with the other nifty interface functions, help to create a fast and efficient workflow.
Premium users also have integration for GIPHY and Unsplash which will allow you to add gif animations and high-quality images conveniently from your editor. You can also create new templates or customize existing ones.
Visual Composer also offers a fully functional free demo which you can use without having to provide any credit card information. It also stands out for its fully functioning mobile app which allows you to edit your web pages from mobile devices.
Features:
Free version
Frontend editor
Free demo
Extensive template library
Mobile app
Visual Composer Pricing:
Visual Composer offers three premium plans in addition to its entry-level free plan. These cost $45, $99, and $349 respectively, for the Single Website, 3 Website and Developer plans.
Why is Visual Composer the 6th Best Page Builder for WordPress?
Visual Composer has a bunch of nice features including a developer friendly backend editor, and a designer friendly frontend editor. This is a solid page builder all round, but it does have a reputation for slowing websites down!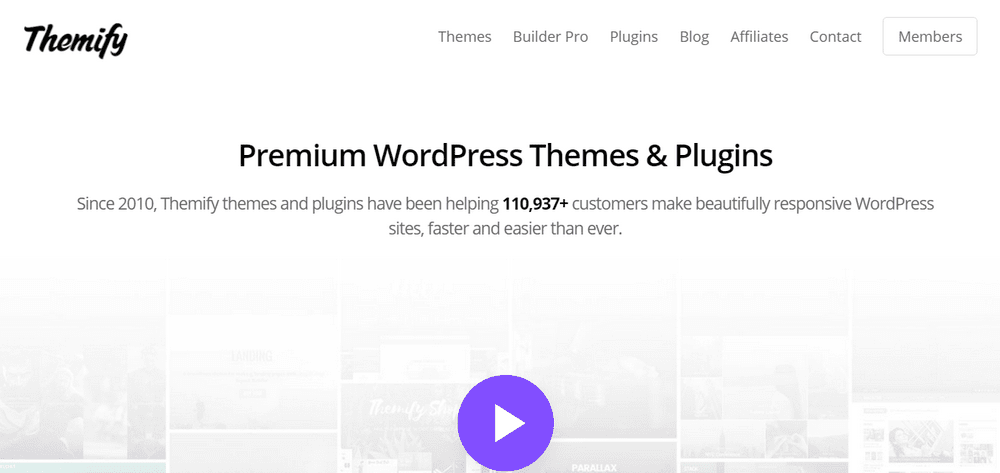 Themify page builder has been in the market for 11 years and commands a decent market share today. One reason for Themify builder's popularity is the fact that it comes with a nice collection of features even in its free entry-level plan. Themify Builder Pro is also affordably priced at $69.
Like many of the other page builders on this list, Themify uses a drag and drop system with both frontend and backend capability. This theoretically makes it suitable for both beginners and more experienced users. That said, the interface isn't the most user-friendly that we've seen.
Features:
Backend and frontend builder
Multilingual capability
Extendable add-ons
Moderate template library
Pricing:
Themify page builder is free for use with a Premium version priced at $69.
Why is Themify the 5th Best Page Builder for WordPress?
For a free page builder, Themify offers an excellent suite of features which makes it a favourite in theory. In practice, the builder is less user-friendly than the page builders in our top four.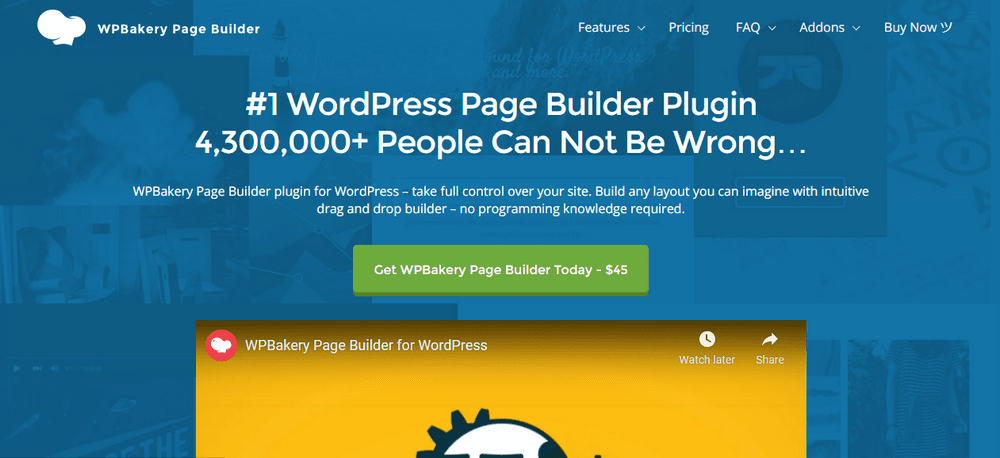 With over 4,000,000 installs, WP Bakery is one of the more popular page builders out there and it makes the bold claim of being the best. It certainly is among the very best ones we've seen, but we're not so sure about it being the best.
It offers fairly priced annual payment plans that provide a plethora of features and full access to their template library, free updates, and premium support.
From device-specific design options to its extendable page builder API, WPBakery seems to cover quite a lot.
It also stands out for its extensive template library, and for allowing users to submit their customized templates that can be purchased by other users.
Features:
Frontend and backend editor
Large template library
Extendable API
Multilingual capability
WPBakery Pricing:
WPBakery offers just two premium plans. These are the Regular and Extended plans which cost $45 and $245 respectively.
Why is WPBakery the 4th Best Page Builder for WordPress?
This is a great page builder and a solid alternative to the ones in our top three. When compared with the page builders we've chosen as our top three, WPBakery may have a slightly steeper learning curve for beginners, so it narrowly misses out.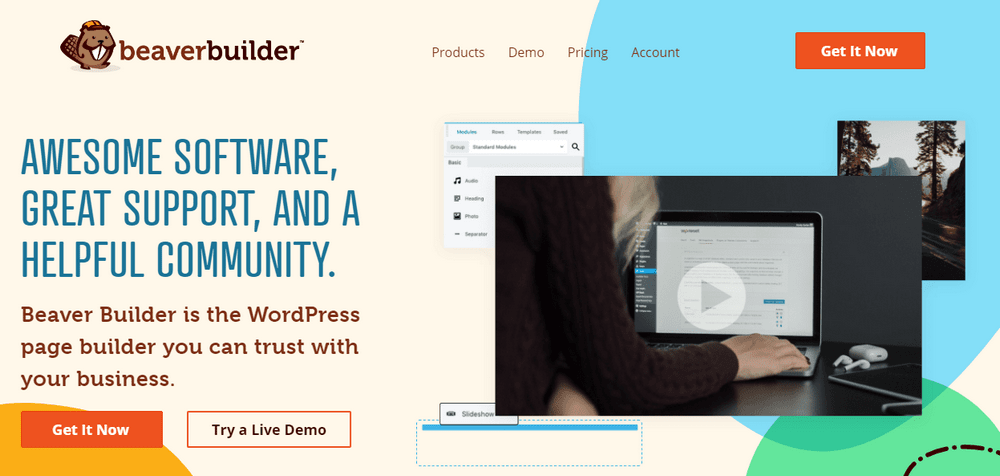 Beaver Builder is another page builder that has been around for some time. It has currently racked up over one million installs which is evidence that it's doing something right.
One thing it certainly gets right is offering the right balance between being user-friendly for designers and non-technical users, and providing enough space for developers to work their magic.
Beaver Builder is a frontend editor which is great for less technical users. It also offers developers clean code and a stable platform to work with, allowing them to easily customize the HTML, PHP, CSS and Javascript of their websites.
Features:
Live demo is available
Moderate template library available
Unlimited use on every plan
Beaver Builder Pricing:
Beaver Builder offers three premium plans, all of which renew at a 40% discount. The Standard plan costs $99 and while it offers unlimited usage, it does not come with the Beaver Builder Theme. The Pro and Agency plans do include the theme, and cost $199 and $399 respectively.
The key difference between these plans is the availability of white labelling on the Agency plan.
Why is Beaver Builder the 3rd Best Page Builder for WordPress?
Beaver Builder is a great, feature-rich page builder with unlimited usage on all its plans. The biggest drawback to Beaver Builder is its lack of a free version.
Technically Gutenberg is neither a page builder nor a website builder. Instead, it is a block editor with limited customization options when compared with the page builders we have looked at.
So why is it in second place? Gutenberg is the future of WordPress!
First, Gutenberg comes with the WordPress core and is 100% free. Even without being as flexible as some of the other page builders on this list, Gutenberg will be sufficient for building most web pages, particularly when combined with a powerful theme like Astra.
Using Astra with the Gutenberg editor, you can create entire websites with the click of a button. All you need to do is install the Starter Templates plugin to access hundreds of beautiful and thoughtfully designed websites.
As Gutenberg comes with the WordPress core, it is the best solution for building a fast website, while also minimizing the risks of theme/plugin conflicts.
Features:
Best for speed
Moderate design options
Abundance of third party block libraries and starter templates
Gutenberg Pricing
Gutenberg is entirely free.
Why is Gutenberg the 2nd best page builder for WordPress?
Gutenberg has enough blocks to build most websites. What it lacks in extra features it makes up for in performance gains and of course, the fact that it's free! Combined with third party solutions like our Starter Templates plugin, Gutenberg is the unbeatable choice for anyone looking for quick, effective solutions.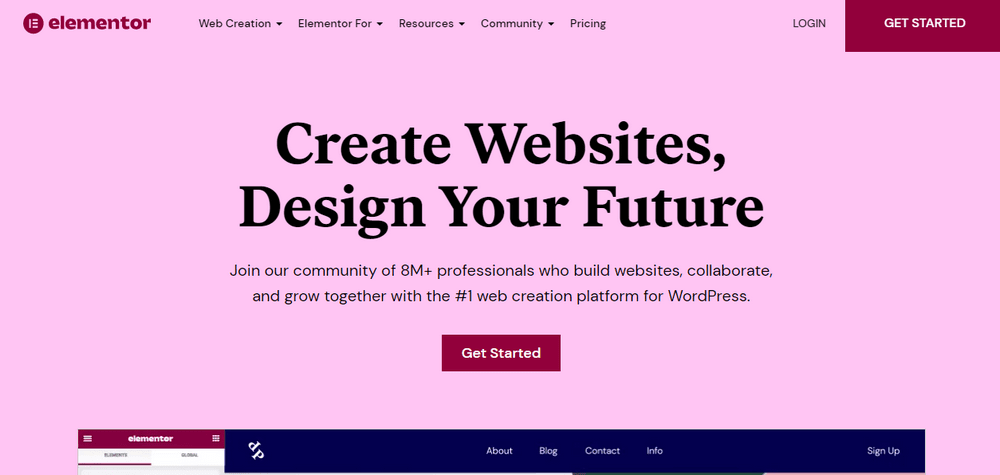 Elementor, despite being among the younger page builders on this list, is by far the most popular, with over 5 million active installs.
With this many people trusting Elementor, it must be doing something right. Quite a lot as it turns out!
Elementor works with any well-coded theme and its developers are impressively proactive, consistently releasing new widgets to allow you to keep your site modern with trendy functionality (e.g. flipboxes, media carousels, animated headlines, etc).
With the free version, you will have access to the Elementor documentation, knowledge base, FAQ, and video tutorials. You will need a license in order to access premium support, which means having one-to-one support from an expert at Elementor.
Elementor has possibly the most intuitive drag and drop builder you can find. In addition, it offers a very rich widget collection, along with an equally rich block and template library.
This allows users to speed up design times while creating beautiful, and unique websites.
Elementor also takes the idea of a page builder for WordPress to the next level with its theme builder which allows you to easily create and edit custom headers and footers.
You can also create, save, and export page templates, and design archive pages such as your blog page, which is not possible to do within the WordPress customizer.
Elementor also works well with the Starter Templates plugin!
Features:
Theme/website builder
Extensive template and block library
Extensive widget collection
Frontend editor
Elementor Pricing:
Elementor offers a free entry-level plan along with five premium plans. These cost $49/year for the Essential plan (one website), $99/year for the Advanced plan (three websites), $199 for the Expert plan (25 websites), $499 for the Studio plan (100 websites), and $999 for the Agency plan (1000 websites).
Why is Elementor the Best Page Builder for WordPress?
Elementor is the leader in the page builder market for good reason. It offers an unbeatable range of well designed widgets, blocks, and templates, allows you to create and save your own templates, edit all areas of your theme, and also provides native marketing functionality such as forms.
With a user interface that is logical and intuitive while allowing enough room for advanced users to get creative, we think Elementor is currently the king of page builders. It's five million users might agree!
As we've chosen Elementor for the top spot, we're going to spend a little more time justifying the verdict.
Here are the reasons why we love Elementor:
Elementor Templates
With over 100 free templates and 300 pro templates, Elementor's template and block library is HUGE. You will have more options to choose from, and the broad range of options also makes it easier to create a unique looking website.
Elementor SEO
Elementor produces clean, efficient code as you build out your website, resulting in an SEO friendly website.
Elementor Community
With over five million installs comes great resources in the form of an extensive knowledge base and a very active Facebook community.
The Elementor community group on Facebook has a whopping 54,000-plus members. Elementor does a terrific job of facilitating their community engagement, including hosting consistent community meetups which happen all over the world.
They also have translation communities and a dedicated community for developers.
Elementor Third-party Ecosystem
Elementor markets its page builder as being an all-in-one solution, and provides an impressive collection of widgets to support this. Still, numerous third-parties have built some impressive addons to make Elementor even more powerful than it already is.
Some examples include Astra Starter Sites, Ultimate Addons for Elementor, Essential Addons for Elementor, Premium Addons for Elementor. Combined, these options have over 600,000 installations with an average 5-star rating.
Getting Started With the Best WordPress Page Builder
We've walked you through 11 really powerful WordPress page builders. As you will have noticed, each one has its strengths and weaknesses, so there isn't any one solution that works best for all situations.
If you're looking for a recommendation, we would say skip the page builders entirely.
Instead, use Astra and Gutenberg along with our amazing collection of Gutenberg-ready Starter Templates to power up your design.
If you want to use a page builder, we'd recommend Elementor for all the reasons we outlined above.
Seen a Page Builder You Like?
We've just walked through 11 great page builders for WordPress. There are many more but these ones will cover most of your needs.
Now you know all the options, it's time to make a choice! Gutenberg is the most natural option, but for a little more firepower, Elementor Pro is a costlier but effective alternative.
Whichever you choose, don't forget that your choice of theme is just as important as your choice of page builder. We'd recommend Astra, as many experts do, but there are other premium WordPress themes to consider as well.
We'd love to hear from you if you have used a page builder with WordPress. Which one is your favourite and which ones do you think we've omitted? Tell us in the comments!