Video is now how brands get their message across to their audience. They invest a good portion of their marketing budget in creating videos that attract the right audience.
If you're an eCommerce store or a service provider, videos of products and services are a great way to pitch offers and impress viewers. If you're a training provider or coach, video is equally, if not more important.
So it pays to showcase videos at their best on your website.
Displaying videos on your website and ensuring visitors can view them is more than just another item on a checklist.
It's an essential aspect of ensuring your messages reach your audience in the right way.
In this blog, we'll help you understand why you need a WordPress video player plugin to offer a great experience to visitors. Then, we'll help you choose the right plugin for your website from a list of ten video player plugins.
But first, let's discuss a related, but equally important question.
Where Are Your Videos Hosted?
The answer to this question has far-reaching implications for your videos and directly affects the experience of your viewers.
When deciding where to host your video, your first thought could be of the server already hosting your WordPress website.
This makes sense – you already have complete access to the server, and there's a lot of free disk space.
This idea, known as self-hosting, is often the first thought of many business owners because it makes good financial sense. You're already paying for the server space, so why not use it to the fullest?
However, this approach has several disadvantages, including:
Videos take up a lot of space
Even a one minute video can be up to 100MB in size.
If a single minute of HD video can take up to 100Mb of storage, you can imagine the space required for uploading longer testimonial videos and ads.
The space requirement could skyrocket if your core offering is centered around videos (as is the case with courses and training).
Disk space on web servers is finite. The more you utilize for video, the less you'll have for your website, images, and other essentials.
That's not even mentioning the bandwidth required to play those videos!
Self-hosting Video Is a Lot of Hassle
When you self-host videos, you are essentially handling all the work yourself. This means you have to spend time and resources converting each video into several popular formats and then upload all the files to your server.
On the front end of the website, you need to make sure that the right video player is integrated within the pages. You also need to make sure that the player has the proper branding and styling.
On top of that, you also need to monitor everything to ensure it's working correctly and that there is no lag to spoil the user experience.
Self-hosting Videos Degrades the User Experience
Finally, even if everything adds up, you should be aware that self-hosting videos is a recipe for a bad user experience.
Because the videos are hosted on the same server as the website, the server has to dedicate a good chunk of the available resources to fulfill the demands of visitors.
As the number of visitors increases, the page load speed starts to slow down.
As a result, visitors see a noticeable decrease in how fast pages load, which impacts the user experience. Video playback will also be impacted, which compounds that experience.
The Solution: Host Videos On a Video Hosting Platform
Since no business can afford to have slow-loading pages or stuttering videos, you should avoid self-hosting videos on your web server.
What you can do is this:
Upload your videos to a dedicated video hosting provider and then use a WordPress video player plugin to embed the video into your posts and pages.
This simple solution allows you to sidestep all the problems presented by self-hosting videos.
Since they aren't located on your server, there is no strain on resources and no degradation to the user experience.
Now that you understand where to host your video and why, let's discuss why you need a WordPress video player plugin.
Isn't The Gutenberg Video Block Enough?
The new Gutenberg video block makes it easy to embed a video into any page or post.
Since the block uses the oEmbed protocol, it can pretty much work with any source that supports it.
All you need is the URL of the video (YouTube is a good example). Next, simply add the URL to the block, and it will fetch the required information from the source.
For many website owners, this is enough for embedding videos.
However, if the video is the core offering of your business, the Gutenberg video block might be too simple for your needs.
This is often the case with course creators and eCommerce store owners who use video to generate traffic, deliver information, and generally make sure visitors convert into customers.
That's where WordPress video player plugins come into the picture.
These plugins go beyond the basic functionality of the Gutenberg video block and add features that help you leverage video as an essential part of your marketing strategy.
In particular, these plugins help you in the following ways:
Video Plugins Support Multiple Sources
Many course creators and coaches play it safe and upload their content to multiple sources. This ensures that their content remains available even when the primary source goes offline for any reason.
WordPress video player plugins work seamlessly with all popular sources and pull data without any additional work.
Video Plugins Integrate Well With Page Builders
Most websites are now built using page builders such as Elementor and Beaver Builder.
WordPress video player plugins are built to be compatible with these page builders. As such, you get excellent results without any glitches.
Custom Video Player Branding
Player branding includes displaying your logo and brand colors. It's an excellent way of adding a professional look to your videos.
By adding your logo, you also add a layer of protection to your videos so that even if they are stolen, the viewers can still see who it belongs to.
Now that you have a fair idea of why you should use a WordPress video player plugin, it's time to pick one for your website. As this is WordPress we're talking about, you can bet that there are more than a handful of plugins that do the job!
Top Ten WordPress Video Player Plugins
To help you pick the best match, here's a list of ten plugins with a good mix of features that will help you display videos on your website.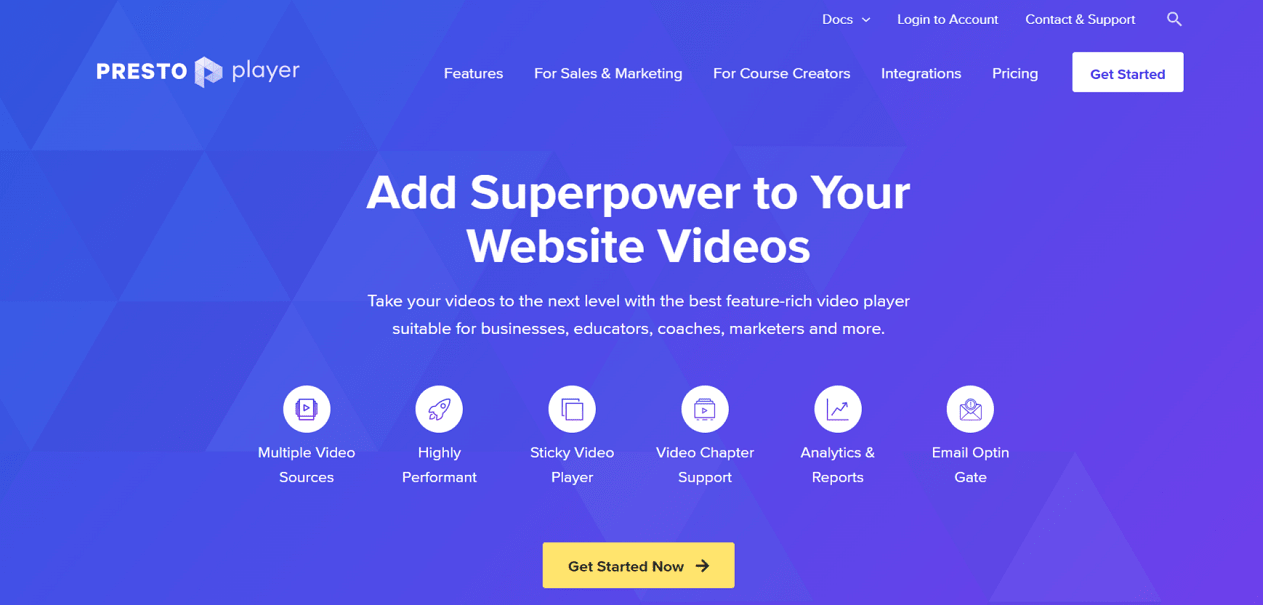 Presto Player is a feature-packed plugin built for course creators and bloggers. You get a robust video embed and playback solution that is ideal for displaying everything from testimonials videos to course presentations.
Presto Player also allows you to add CTA and email collection fields to help you leverage video for your marketing campaigns.
Features
Get detailed analytics on your videos hosted at multiple sources.
Add overlays to deliver additional information about the video.
Allow viewers to set the playback speed for the videos.
Upload multilingual captions for your videos.
Create custom presets to come up with the preferred combination of features.
Pros
Add a call to action (with URL) at your preferred time.
Integrate Presto Player with LMS, CRM, and email marketing platforms.
Cons
The free version only offers basic video analytics.
Private videos are only available in the paid versions.
Pricing
Presto Player offers a free version with restricted features. The paid plans are:
Starter $59
Pro $89
Lifetime $299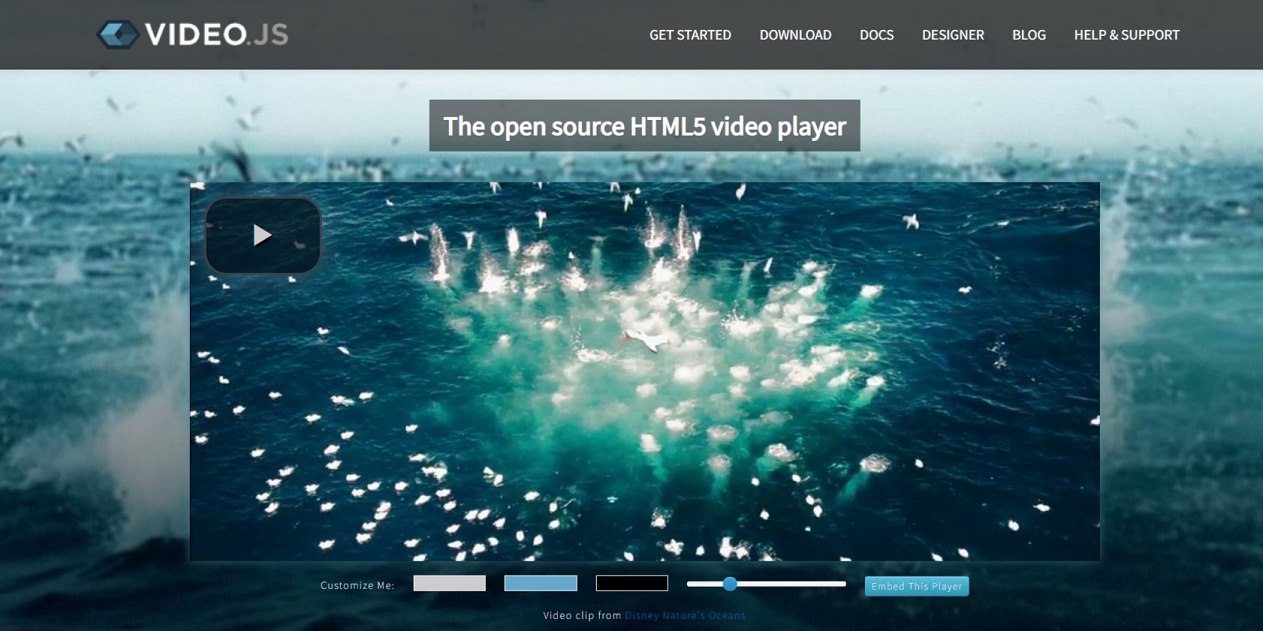 Video.js HTML Player is a simple plugin that embeds videos into your pages and posts. It adds a responsive player that works well with all browsers and devices.
Thanks to this compatibility, you can embed any HTML-supported video formats (MP4, OGV, WebM) through a shortcode. The plugin is lightweight and simplifies video embedding for everyone.
Features
The plugin supports both self-hosted and third-party hosted videos.
Add a custom poster image for each video.
There's no watermark to spoil the user experience.
Support for all popular formats.
A powerful shortcode structure that can be customized to embed all videos.
Pros
The plugin supports video autoplay at page load.
You can set player dimensions to fit your design.
Cons
There is little support for private videos.
Little to no player customization or branding options.
Pricing
Video.js HTML5 Player is free to use.
This plugin is built with mobile devices in mind. True to its name, WP Video Lightbox plays the video in a lightbox when the user clicks it.
The player is very lightweight and adds little to no drag to the page load speed. However, the plugin is powerful enough to handle animations, images, and videos. Like all players on the list, the plugin supports multiple sources, including direct embed and YouTube.
Features
It shows a lightbox for the videos.
Videos can be set to auto-play on page load.
The plugin automatically retrieves the video's thumbnail.
The plugin supports HTTPS connections.
You can show or hide video titles on the lightbox.
Pros
You can control the speed of the animations.
You can set the opacity of the lightbox to suit your requirements.
Cons
WP Video Lightbox is very minimal, with just a lightbox for the player.
Tweaking the shortcode to fit the lightbox to your design can take a while.
Pricing
WP Video Lightbox is free to use.
ARVE Advance Responsive Video Embedder is a powerful plugin that allows you to embed and play videos from all oEmbed-supported sources. The plugin supports Classic editor (through shortcode) and Gutenberg editor (through a dedicated ARVE block).
Once your video has been embedded, the aspect ratio could be set automatically or can be customized to fit your design. If you choose, the videos can be auto-played on mute. The plugin supports multiple sources and can play videos in a customizable lightbox.
Features
You can embed videos using shortcode and the ARVE block.
Add hover effect to video thumbnails.
The shortcode can be customized to fit all sources and scenarios.
The plugin supports video schema that adds to the cumulative website SEO score.
The video titles can be optionally hidden.
Pros
ARVE automatically sets up video schema for your videos for improved SEO.
The lightbox can be set to close automatically once the video finishes playing.
Cons
At times, video dimensions are not rendered correctly.
Video lazy load is not available in the free version.
Pricing
€40 for a one-year single-site license.
€109 for a one-year license for three sites.
€339 for a one-year license for ten sites.
€995 for a one-year license for fifty sites.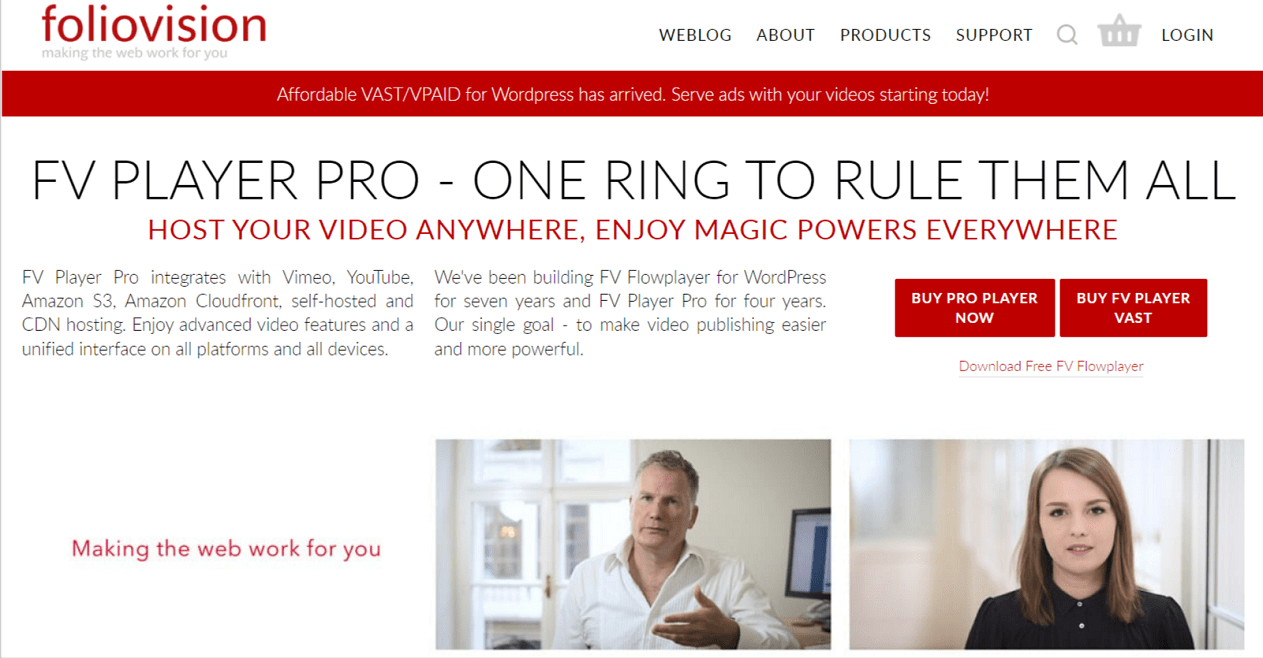 FV Player is a powerful plugin that brings a lot of features to the table. In addition to supporting all popular sources, the plugin simplifies video embeds for standard formats such as MP4 and WebM.
Like all plugins on this list, FV Player embeds a lightweight, responsive player that you can customize to the video dimensions. You can add pre-and post-roll screens that can be used to deliver additional offers or direct the viewers to the next step. This feature allows you to tack on your ads to third-part videos without any worries.
Features
The shortcode accepts 40+ parameters and could be fine-tuned to fit your requirements.
You can embed entire playlists in a player.
The viewer can control the playback speed.
The plugin supports sticky videos.
You can optionally add a DRM warning to your videos.
Pros
The player can be styled and extended with just HTML and CSS.
Excellent integration with Google Analytics for in-depth video analytics.
Cons
You can integrate a content delivery network (CDN) only with the paid versions.
The options list could be confusing for some users.
Pricing
The free version comes with limited features. The Pro version is available in several licenses, including:
$75 for a single site.
$195 for five sites.
$395 for 20 sites.
If you need a versatile plugin that doubles as both a video player and a gallery builder, look no further than All-in-One Video Gallery. This complete video management solution comes with a custom video post type for simpler video management. In addition, the users can search for videos on your website.
The plugin offers two-player styles (Slider and Popup) to help you better set up the video player and control how viewers interact with the videos.
Features
The plugin comes with a customizable and highly responsive HTML5 player.
You can set up GDPR content warnings for the videos.
Optionally enable social sharing and subtitles for a video.
The player supports live stream embeds.
The plugin supports all popular video hosting platforms, including Google Drive and local servers.
Pros
Fine-tune player appearance by adding your logo and brand colors.
Use player options to serve popup ads and testimonial videos at your pages.
Cons
The plugin's price might not be a good fit for some users.
The interface and options list could confuse beginner users.
Pricing
All-in-One Video Gallery has a free version with minimum features. The paid versions are:
Single-site Pro Plan with a monthly payment of $4.99 and a lifetime payment of $149.99.
Single-site Business Plan with a monthly payment of $9.99 and a lifetime payment of $289.99.
The Ultimate Video Player is a robust plugin that takes care of all aspects of embedding and playing videos on your website.
The plugin can work with all video sources and could also play audio files as well. Optionally, you can serve custom ads as pre-and post-roll screens. The player supports multilingual subtitles, a lightbox player, live streaming, and custom video thumbnails.
Features
You get an optimized video player for an excellent experience on all devices.
The plugin integrates well with Google Analytics for better insights into the performance of the videos.
Embed entire playlists by using the playlist embed code.
Support for private password-protected videos.
Option to shuffle playlist.
Pros
The viewers can select video quality for the videos.
Get a one-click option for fullscreen video playback.
Cons
The pricing could be out of budget for some users.
The plugin features could get complicated for novice users.
Pricing
The Regular license costs $59 and comes with six months of support.
The Extended license costs $186 and comes with six months of support.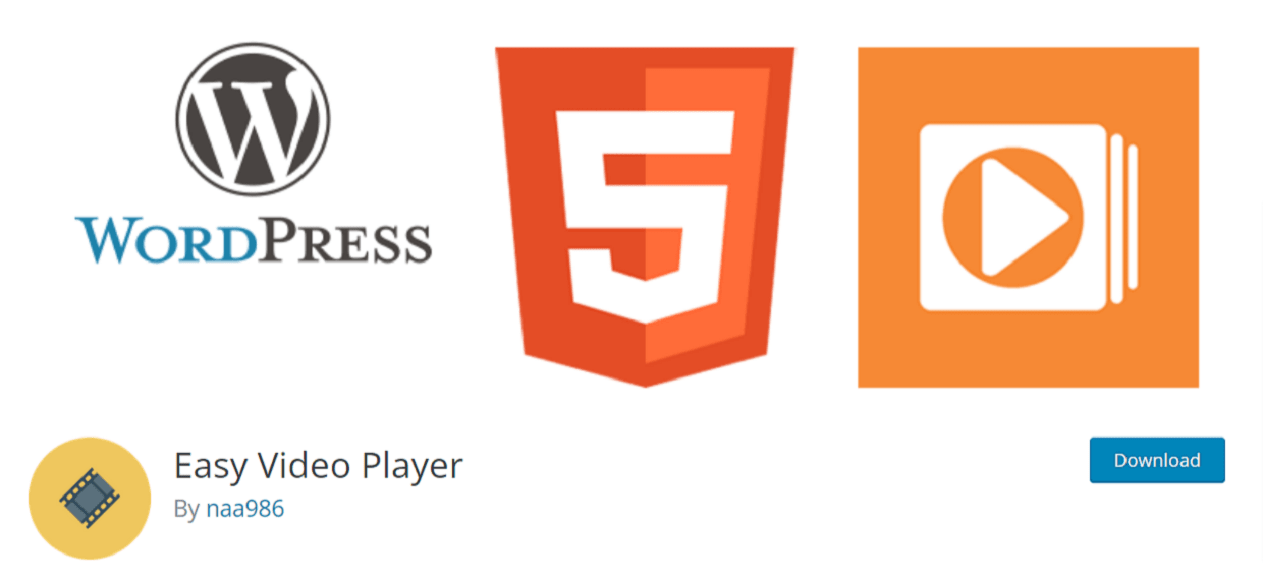 Easy Video Player is a simple solution for embedding videos into your website. This plugin offers all the features you expect from a top-of-the-line WordPress video player plugin.
You get a powerful shortcode that accepts several optional parameters. With these parameters, you can make the video auto-play, control the player's size, and play the video in a loop.
Features
Several parameters can be used at once.
The plugin has a minimal interface that can be customized to fit your page design.
The player supports MP4 videos from all sources.
The plugin can be extended through code using the included classes.
The player supports the default 16:9 ratio out of the box.
Pros
You can use a custom player template for the player for enhanced customization.
Change player aspect ratio with a simple "ratio" shortcode parameter.
Cons
There aren't many options to configure the plugin.
The player doesn't provide any functionality beyond the basic video playback.
Pricing
The plugin is free to use.
Videopack is a popular video player that focuses on adding impressive thumbnails and the overall presentation of the videos. It essentially adds several fields to videos uploaded to the WordPress Media Library.
The plugin has a feature-packed shortcode that you can use to optimize the video embed process. The player is highly responsive and displays custom thumbnails that you can select for each video.
Features
Generate custom thumbnails for your videos.
The HTML5 player is very lightweight and loads quickly.
The shortcode can be used to embed both videos and galleries.
Add skippable ads through a separate plugin.
Add popup video galleries to pages and posts.
Pros
The plugin automatically selects a suitable resolution for the videos.
Select the thumbnails for the videos.
Cons
You need to buy an additional add-on to display advertisements.
Limited support for video sources.
Pricing
The core plugin is free to use. If you wish to display advertisements, you need the Videopack Ads add-on for:
A yearly subscription of $5.99.
A lifetime deal for $24.99.
YouTube Embed is a great plugin for embedding and displaying YouTube videos. The responsive and highly customizable player can display videos and playlists on your website without any issues. For improved website SEO, the plugin gets the metadata of the videos straight from YouTube.
The player comes with several shortcodes that allows you to embed the videos and add additional information about the videos. The player is responsive and can be customized to fit the website design.
Features
You can add direct download links for the website videos.
The plugin supports lazy loading for videos.
The thumbnails can be generated using a shortcode.
The player can play hi-def and 4k videos.
The videos are automatically resized to fit the page design.
Pros
You can use the plugin to play 60FPS videos on your website.
It's a great fit for websites that prefer YouTube videos over other sources.
Cons
No thumbnails for playlists.
Since teh plugin uses several shortcodes, novices users might find it difficult to use the plugin.
Pricing
The plugin is free to use.
Wrapping Up
That ends up our list of WordPress video player plugins!
We understand that choosing the right plugin for your website isn't always easy.
Ideally, you should install all the plugins one by one and check out the features. To help you avoid that, we'll narrow down this list of ten plugins to just two.
If you need a simple video player that takes the hassle out of embedding videos on your website, try Easy Video Player. This simple plugin embed videos through a shortcode that you can tweak to your heart's content. It is easy to use and doesn't slow down your website.
On the other hand, if you see video as central to your business, you need a solution that takes videos beyond simple playback. That's when we recommend Presto Player. The real power of this plugin lies in its capabilities of adding call to action and email collection fields to videos.
Other plugins on this list offer similar features and capabilities, but they are either complicated to use or impact website performance.
Plus, both Easy Video Player and Presto Player have a simple interface that is aimed at both novice and expert users!
Now it's your turn!
Let us know if we missed your favorite video plugin, and we'll extend this list. What's your experience been like when you tried out a plugin on this list? Have you tried any of these players? Have an opinion you'd like to share?