This widget allows switching between two types of content, saved templates or pages. Here is the demo. Below is the detailed video –



Key features –
You can display content / saved section / saved page
Choose which content section to display by default
Different switch styles
Heading and toggle switch layout ( inline/stack)
Responsive option for inline layout
Dynamic field support for heading
Styling for each part of the widget
Add content for toggle switch
When user clicks on the toggle, a content will be switched. You would need to enter content for both sides. This content can be –
Text
Saved section
Saved page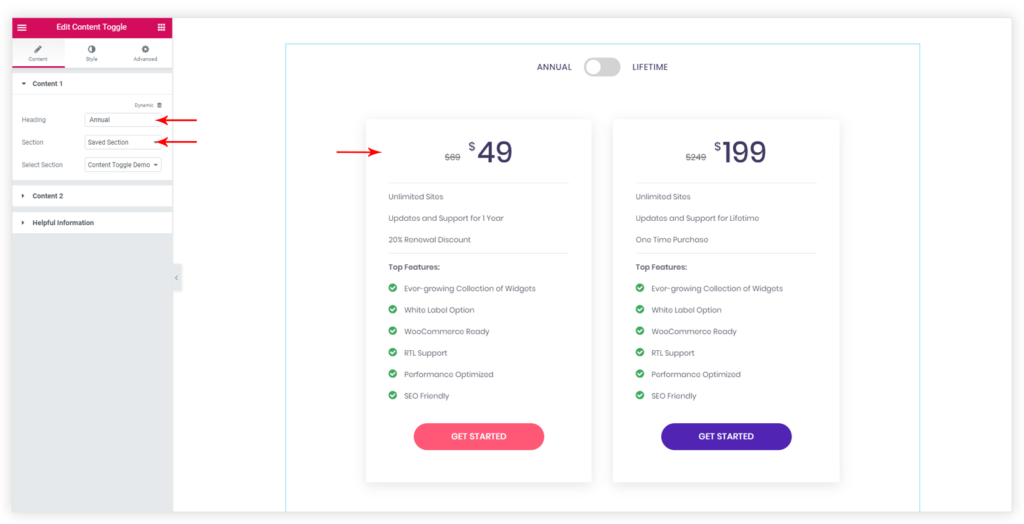 Default content display and toggle switch styles
Between both contents you can choose which content to display by default. To set this go to Style > Switcher > Default Display and select content.
Different styles for the toogle button can be found under Style > Switcher > Switch Style. You can completely customize the toggle switch with available options.
Layout and other styling options for headings
Headings can be set inline or stack. If you set it to display inline, on responsive you can stack them with a responsive option. These options are available under Style > Headings > Layout. Headings tab will contain all option to customize both headings completely.